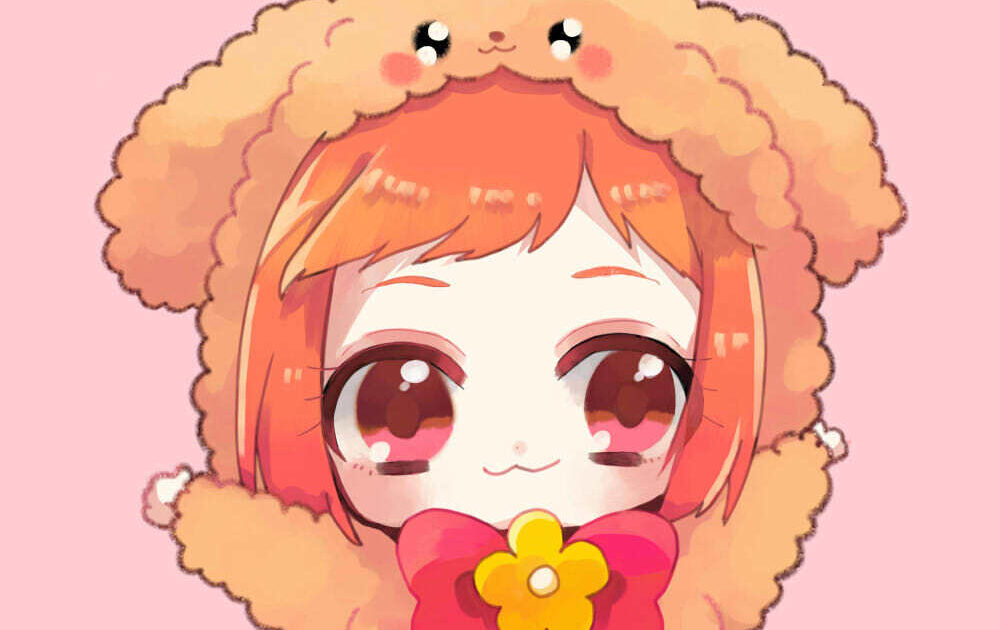 U-san
Number of channel subscribers 1.94 million (January 2023)
Youtuber of live video games (Minecruft)
What is Jikkyo Youtuber Nichijyo-gumi(Everyday Life Group)?

The "Nichijo-Gumi" is a group of four Youtubers, Peinto, Shinigami, Kuronoa, and Torazo, who are active in the video game industry.
They get along well with each other and sometimes say mean things in their videos, but the atmosphere never gets unpleasant and the sarcasm is funny. Many viewers seem to find his sarcasm amusing.
He started his Youtube channel on November 6, 2010, and is a veteran of the live game industry.
Most of the members are in their mid-twenties, and considering that they started streaming 13 years ago, they have been on Youtube since their early teens.
All four members are highly skilled in editing and planning.
Let us introduce you to these four members.
Introduction of Nichijyo-Gumi Members
Peint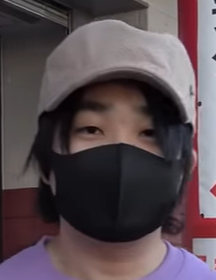 It is no exaggeration to say that he is in charge of comedy in the Nichijo-Gumi.
Originally, he was a one-man live game show, but after meeting the current members, he changed his name to "Nichijyo-Gumi"
He has a bottomless cheerful personality and is often caught by surprise.
In the Jailbreak series, he plays the role of a suicide captain.
He has collaborated with Tomo Akagami and Dozel, and many others.
Click here to see Tomo Akagami's collaboration video.
Click here to view the Dozle collaboration video.
Also, since you and shinigami are too close to each other, are you dating? That's a rumor among viewers.
※They deny it.
They came last in a game that tested their views on love five years ago, so I can only guess that they are dating is just a rumor.
~Peint~
Real name: Shinpei
Birthday: October 8, 1995
Color: Yellow
Blood Type: O
Personality: Very cheerful, laughing, and high-spirited. He is good at making a joke.
Other: He has lost weight and become handsome since 6 years ago. He likes older women. He is often tricked into a surprise and falls for it. He may be a dominatrix. He may be a dominatrix.
Twitter account: @peintooon
Youtube account: @peintooon
Are you dating? Click here to watch the Question Corner video.
~Are you dating? ~ Peint & Shinigami's Question Corner!
Shinigami(a Japanese word for "dead")

The youngest and mascot? About "Shinigami," our youngest mascot.
Shinigami is the youngest and has a mascot-like presence. His neutral appearance, high voice, and short stature have caused him to be mistaken for a woman in the past.
Shigigami is on a mission to be a blur, and there are videos of him doing so. He loves pranks and surprises, which are often done through clever tricks, and he has received many instructions from his fans.
~Shiginami~ (a Japanese word for "dead")
Real name: Shuto
Birthday: February 27, 1997
Color: Purple
Blood Type: Type A
Personality: Loves pranks and surprises. He also likes to be silly.
Other: Neutral. He has been mistaken for a woman in the past. He likes to be spoiled by younger women. He has a bad mouth. Likes spicy food. Rumored to be dating Peinto. He has a great programming ability. Showing his face
Twitter account:@sinigami227
Youtube account: @sinigami227
Kuronoa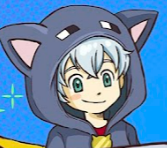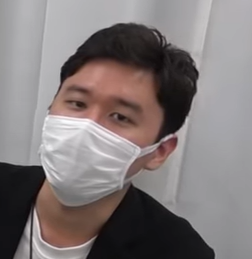 Calm and collected leader.
Kronoa is good at various games.
He invites gaming Youtubers to collaborate with him on his Youtube channel, and he plays extremely well.
~Kuronoa~
Real name: Masaki
Birthday: January 21, 1995
Color: Blue
Blood Type: Undisclosed
Personality: calm. He is the quiet one in the daily group's videos.
Others: He is a god at implementing microsoft. He is reckless. Lives with his mother. He is a good cook.
Twitter account: @kuronoa121
Youtube account: @kuronoa
Torazo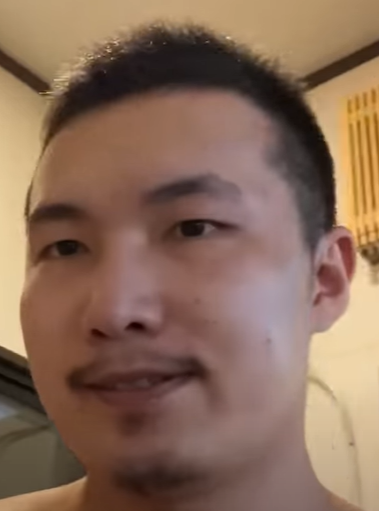 Trazo is a slow-paced person.
His voice is low and dandy-like, so he is in charge of the good-looking voice.
Since he revealed his real name, he often introduces himself in his videos as "Tomohiro.
In the Jailbreak series, he plays the role of a doughy guard.
~Torazo~
Real name: Tomohiro
Birthday: May 2, 1995
Color: Green
Blood Type: O
Personality: My pace. Athletic personality. Good at making a joke. Natural.former Self-Defense Forces (Defence)
Other: He has good luck. He is the type of person who starts a competition even if the game has not started. He is the only married person in the group.
Twitter account: @torazo52nips79
Youtube account: @torazo_studio
What are the popular videos?
The most popular video of the Nichijo group is the "Blue Demon Tag" series.
It is a simple game in which Shinigami becomes a blue devil and the three members run away.
However, Shinigami's blue ogre was too interesting…
\ Popular Video /
Next is the "Micra Jailbreak" series.
Series 1 through 3 are now in theaters, and if you watch the first one, you'll definitely get hooked and watch all three at once.
Trazo plays a guard who is a little bit out of his element…keep up the good work! The Pukes!
The quality of the videos is gradually improving.
\ Popular Video No.2/
Nichijyo Box Radio
The radio named "Nichijyo Box" has a good reputation.
It is held irregularly on Youtube. The screen remains up and only the conversation is played, just like a radio.
They also read comments from fans, which is great for fans. If you would like to participate, you can apply for the contest on Twitter as they are looking for submissions.
The members' conversational and conceptual abilities are so great that you will definitely get a giggle out of listening to them.
What about illustrations and goods?
Goods can be purchased from the "Nichijyo-Exhibition" URL.
Manga: Nichijyo Rock
The Jailbreak series was adapted into a manga.
It is titled "Nichijo Rock" and published by KADOKAWA.
Illustrated by Kana Matsunami and based on an original story by Trazo.
Volumes 1~4 are currently on sale. The price is 704 yen($4.98 July21.2023).
Since Trazo is involved in the publication, it is sure to be interesting. We hope you will read it.
漫画:日常ロック
April 2023 New series of videos "Micra Daydreams"
More than a year after the Micra Jailbreak series, the Micra Daydream series was released in April 2023.
Viewers have said, 'I've been waiting for this!' ' and many have said, 'I've been waiting for this!
Every two days, one episode is released at 17:00. It seems that there are people who look forward to watching the series after work or on their way home from work.
Please watch the video for more details.
\ Recommended Video!/
Summary of Member Introductions
Name on Youtube
Real Name
Birthday
Color
Blood Type
illustration
Micra
live action
(Old time)
live action
(Year2022)
Peint
Shinpei
October 8, 1995
Yellow
Type O
Shinigami
Shuto
February 27, 1997
Purple
Type A
Kuronoa
Masaki
January 21, 1995
Blue
private
Torazo
Tomohiro
May 2, 1995
Green
Type O
October 2022.
Suddenly, a handwritten study was published.
The members' real names were written there.
The fans were surprised at the sudden announcement.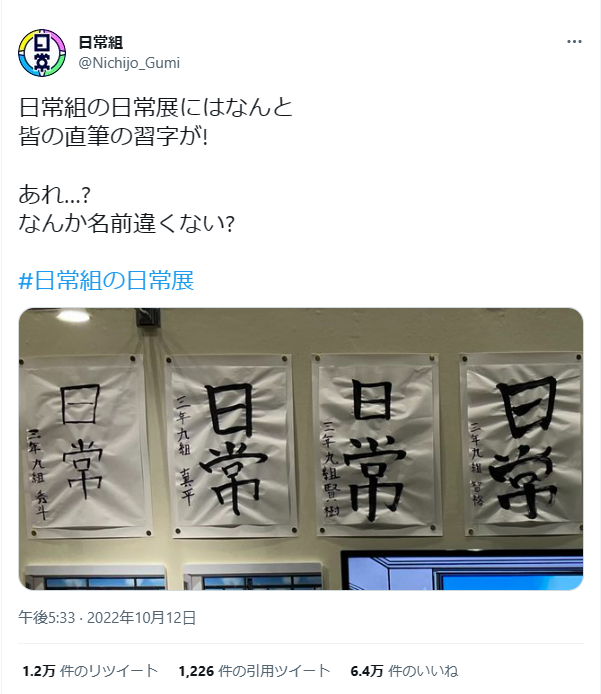 Click here to follow the Nichijo Gumi on Twitter
recommendation